Landry/French Adds to Its Leadership Team; Announces Four New Hires
Landry/French Construction has expanded its leadership team with the addition of Mike McLaughlin, Senior Vice President; and added three additional new hires: Ben Brown, Director of Business Development; Shawn Butler, Senior Estimator; and Michael Stephens, Assistant Project Manager.
With the opening of the company's New Hampshire location, industry veteran Mike McLaughlin joins Landry/French as Senior Vice President to oversee the day-to-day operations of the Portsmouth office, nurture client relationships, and grow the company's presence in New Hampshire. With nearly 25 years of industry experience, he has worked with some of the region's top contractors including Turner Construction and Commodore Builders and brings a wealth of knowledge in organizational management and leadership. Mike holds a Bachelor of Arts Degree from the University of Massachusetts at Amherst.
Ben Brown joins Landry/French as the Director of Business Development. In this role, Ben will develop and strengthen client relationships throughout both Maine and New Hampshire. Prior to joining Landry/French Construction Ben served as Director of Business Development at Fulcrum Associates. He has an MBA in Marketing from Southern New Hampshire University.
With 20 years of experience in preconstruction, planning and estimating, Shawn Butler joins the company as Senior Estimator. Shawn brings a diverse portfolio of experience including healthcare and higher education projects having worked with prominent construction firms in Boston and New Hampshire including Bond Brothers and Commodore Builders.
Michael Stephens has joined the company as Assistant Project Manager with 8 years of experience, most recently with PC Construction. He has a Bachelor of Science Degree in Civil Engineering with a Minor in Construction Management from the University of Maine at Orono.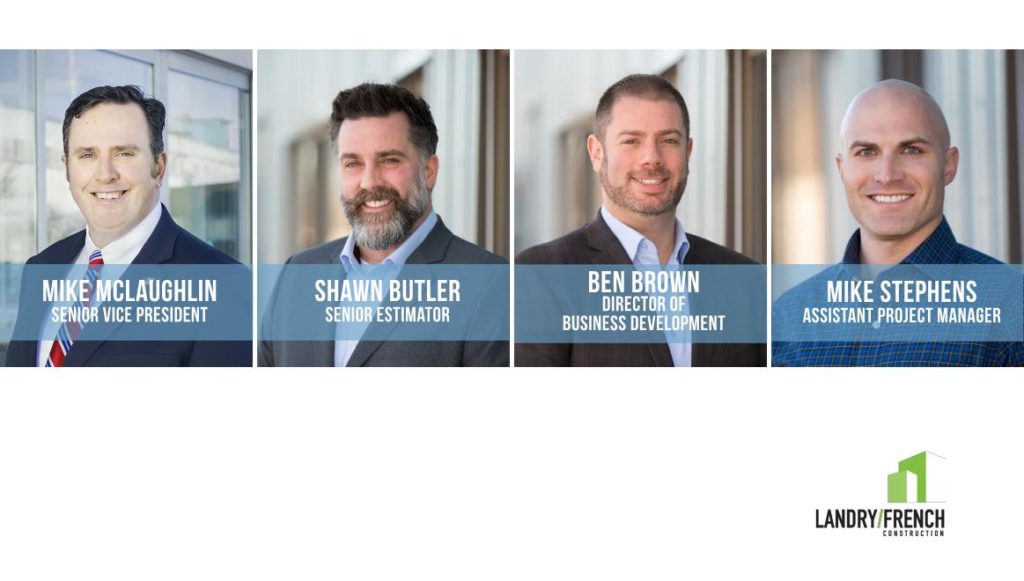 « Back to All Press Releases