Construction Completed of MAC Air Group's New FBO Facility
Landry/French has completed construction of MAC Air Group's new Fixed-Base Operation (FBO) facility located at the Portland International Jetport. This new 43,000-SF facility is the first development on the southeast side of the jetport, and allows MAC Air Group to better serve a growing number of domestic and international aviation clients.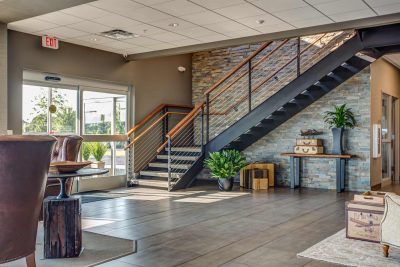 The two-story building includes 30,000 square feet of hangar space and 13,000 square feet for the FBO. The first floor features space for pilots, crew and passengers, including a light-filled waiting area, modern executive meeting and conference areas, a pilot's lounge and crew quiet room, full kitchen, shower facilities and fitness room. The second floor is dedicated to office space including MAC Air Group's corporate headquarters.
Despite several challenges on the project, Landry/French met the aggressive schedule to accommodate the client's expiring lease.
The building was designed by Archetype Architects of Portland.
« Back to All Press Releases